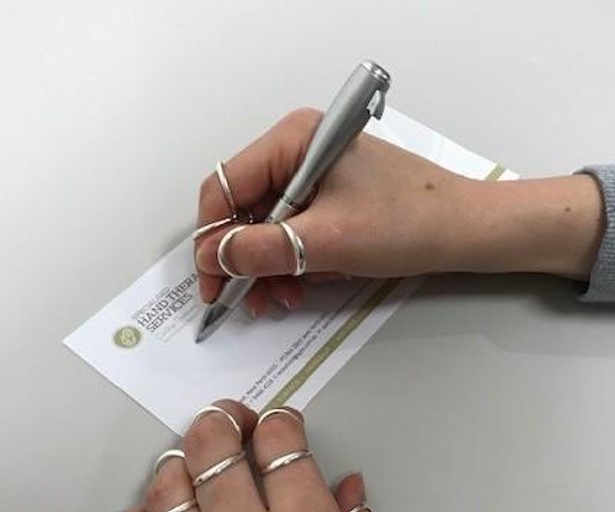 At Specialised Hand Therapy Services, we make custom-fitted thermoplastic splints as well as soft material options to help support or protect your hand injury.
But when your hand or finger problem requires you to wear splints over the long term, or even possibly for life, you may prefer to look at longer-lasting options. That's where a solution such as silver ring splints can come in.
Why Silver Ring Splints
Silver Ring Splints offer a stylish, supportive, comfortable and minimalist solution. Unlike many traditional custom-fitted splints, Silver Ring Splints are an attractive long-term option useful for managing many hand and finger joint problems. Silver Ring Splints are made from lightweight sterling silver or gold and can be worn in place of traditional splints for certain hand and upper limb conditions.
About Silver Ring Splints
Ordered from the USA, SilverRing™ Splints offer a pleasing custom-measured and fitted solution to traditional splints. Silver Ring Splints differ from traditional splints by providing support and pain relief using slimline designs made from sterling silver or gold. For some, they can help remove the stigma and bulk of wearing traditional thermoplastic splints. They also offer a range of features which may be suitable for certain conditions and patients.
Sleek and attractive design.
Slim form factor and minimalistic design means they can be worn under gloves and sports gear (great for nurses and athletes).
All metal construction, more durable and longer-lasting than traditional thermoplastic splints.
The SilverRing™ Splint Company is based in the US and has been making and supplying splints to individuals all over the world for over 33 years. At Specialised Hand Therapy Services, we have been measuring clients and ordering Silver Ring Splints for over 20 years as well!
Possible Conditions
Types of conditions that may be suitable for Silver Ring Splints include:
Hyperextension Problems (for example, related to previous injury or arthritis conditions)
Hand/Finger Instability (affecting your finger or thumb joints)
Triggering (trigger finger)
Permanent Injury (from trauma or deformity)
Arthritis (of the fingers or thumbs)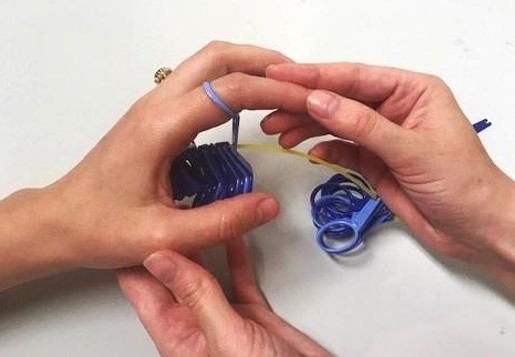 How Specialised Hand Therapy Can Help
At Specialised Hand Therapy, all our therapists are experienced in assessing, measuring and ordering Silver Ring Splints. We have the necessary measuring kits available for therapist use at all our clinics and are ready to work with every patient to design and deliver long term splinting solutions that help you get back to doing the things you love.
Book an Appointment With Our Friendly Staff